New Scout Executive Named
We are pleased to announce the selection of Rudy Gonzalez as Scout Executive of the Rio Grande Council, Harlingen, Texas, effective May 16, 2015.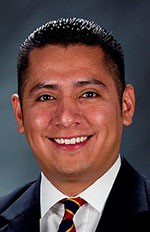 Rudy began his Scouting career as an intern and then became a District Executive in the Sam Houston Area Council in Houston. He moved on to become a Senior District Executive with the Sam Houston Area Council, and was later promoted to District Director in the Circle Ten Council in Dallas. Following his experience in Dallas, Rudy moved to the BSA's National Staff as a Business Development Specialist, Membership Specialist, and Performance Coach.
Rudy is an Eagle Scout and Vigil Honor member of the Order of the Arrow. He enjoys fishing and vacationing with his family.
Please join us in congratulating Rudy as he joins the partnership with the volunteers and staff of the Rio Grande Council to deliver quality Scouting experience to the young people of the communities we serve.
---

Contact the Office at:

(956-423-0250) for the codes to recharter.

To start the process Click Here

---

Summer Camp 2015

Check out New Merit Badges and Goat Island Adventure.

Reserve your spot today

Click Here

---

- N.Y.L.T. 2015

---

- 2015 Summer Camp @ Laguna Station Sea Base

---

RSS feed

---

For Youth Protection training CLICK HERE

Our council is proud to be one of the leading council in youth protection trained leaders in America

---

Please enter all of your unit service hours before the year ends. This helps us provide better records for our outcome measurements. If you need help one of our costumer service representatives came assist you in this simple process. Call 956-423-0250

---

---