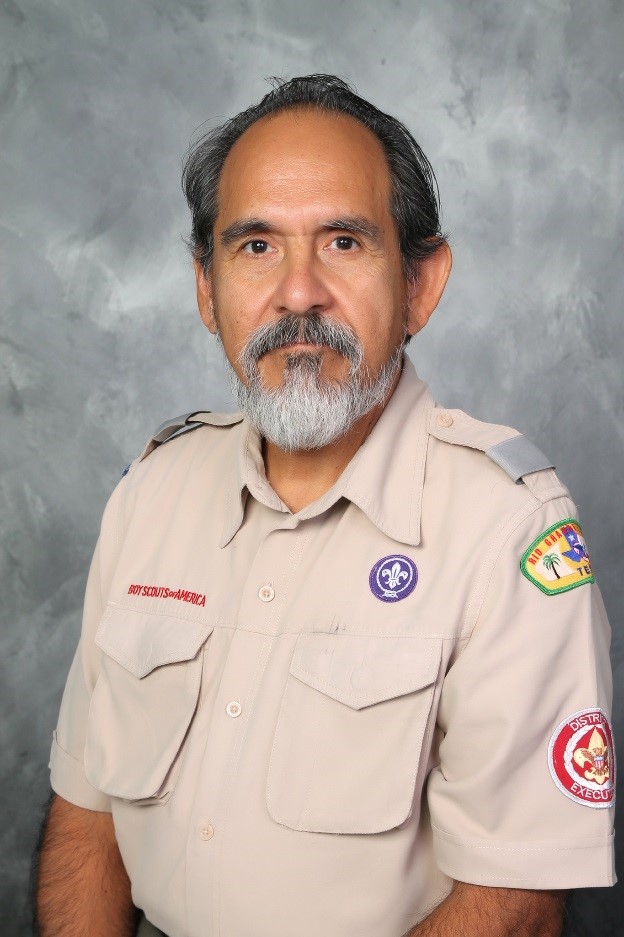 It is with great sadness that we inform you of the death of one of our own, Richard Calzada passed away unexpectedly on Saturday June 20th.
Richard's immediate family has requested a Memorial Service at Camp Perry. It will be held Saturday June 27th 6:00 – 9:00 PM. Richard's wife Phyllis, their children, Mari-Luci and Richard Michael as well other family members will be attending. We are extending an invitation to our Scouting family, please RSVP to ensure we plan adequate meals. Please call our office 956-423-0250 and ask for Esther Flores she will be happy to take your information or you may register Click Here.
We know Richard made many friends, as a volunteer and as a professional if you would like to assist or donate funds for his memorial, please call Esther Flores 956-423-0250. We will be out at camp the morning of the 27th from 9:00 AM until the service is concluded and clean-up has been taken care of. Your participation would be welcome and appreciated.
In lieu of flowers the family has requested donations be sent to the Rio Grande Council Memorial (Endowment) Fund, please contact Esther Flores if you need additional information or have questions at esther.flores@scouting.org or 956-423-0250.
Rio Grande Council # 775
Boy Scouts of America
P O Box 2424
Harlingen, TX 78551
---

Contact the Office at:

(956-423-0250) for the codes to recharter.

To start the process Click Here

---

Summer Camp 2015

Check out New Merit Badges and Goat Island Adventure.

Reserve your spot today

Click Here

---

- N.Y.L.T. 2015

---

- 2015 Summer Camp @ Laguna Station Sea Base

---

RSS feed

---

For Youth Protection training CLICK HERE

Our council is proud to be one of the leading council in youth protection trained leaders in America

---

Please enter all of your unit service hours before the year ends. This helps us provide better records for our outcome measurements. If you need help one of our costumer service representatives came assist you in this simple process. Call 956-423-0250

---

---