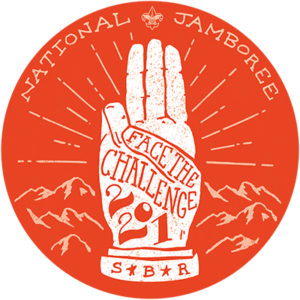 The National Scout jamboree is a gathering, or jamboree, of thousands of members of Scouts, BSA, usually held every four years and organized by the National Council of the Scouts, BSA. Referred to as "the Jamboree", "Jambo", or NSJ, Scouts from all over the nation and world have the opportunity to attend. They are considered to be one of several unique experiences that the Boy Scouts of America offers.
A jamboree is held for approximately a week and a half and offers many activities for youth participants and the 300,000 members of the general public who visit it. Staff members generally arrive several days in advance, and depart several days after participants leave, depending on their assignments. Subcamp staff stay in the subcamps with the troops, while other staff stay in the staff camp.
Troops and contingents
Youth members sign up for the jamboree through an application process to the local council, who then places each boy into a jamboree troop. Large councils are granted multiple jamboree troops. Each troop comprises of :
4 adults

36 youth

A

t least 12 years old on the first day of the jamboree

First Class rank or higher

4 traditional patrols of eight boys each

A leadership of four older boys

(senior patrol leader, assistant senior patrol leader, quartermaster, and scribe)
After being assigned a jamboree troop, members are given their troop numbers, a participant's patch for wear on the Scout's field uniform, and the council's Jamboree Shoulder Patch. Training and preparation for the jamboree often begins more than a year before the actual jamboree begins. Most troops require the adult leaders to obtain Basic Scoutmaster training, and some require Wood Badge, an intensive management training course offered by the BSA. Additionally, the Scoutmaster and one assistant Scoutmaster must be over 21, and another assistant Scoutmaster must be between 18 and 21 throughout the jamboree. The final assistant Scoutmaster may be any age over 18.
Staff
Youth and adult volunteer and professional Scouters provide a number of services to the jamboree by being on staff. Additionally, when the jamboree was at Fort A.P. Hill, members of the military and government services also assisted with providing services to the jamboree. Jamboree staff are given a special hat and neckerchief as tokens of their service, plus many of the different staff groups have special patches or pins that are sought after by youth and adult participants. In addition to the regional staff that provide services in subcamps and at the regional activity centers, many other staff members work in areas that serve the entire jamboree. Staff members arrive a number of days before the jamboree begins and usually depart on the same day or a few days later
Resources:
https://en.wikipedia.org/wiki/National_Scout_jamboree_(Boy_Scouts_of_America)
The purpose of a Jamboree:
Bring boys and leaders a clear understanding of and a deeper sense of commitment to the ideals of Scouting.

Build a deep pride in belonging to one of the free world's great youth movements.

Show the world a model of democratic action as conducted by a great youth movement in a free society

Give boys a rich and genuine Scouting experience of which they can truly say, "This is Scouting at its best."

Emphasize the important need for physical fitness and for conservation of our natural resources in today's world.

Establish and promulgate Scouting activities and methods which will find their way into the regular programs of troops across the nation.

Impress upon the youth of America the need to "Be Prepared" for the challenges of the future.

Help boys know and love America through learning more about the principles and history of our democracy, living and sharing with boys from all parts of the nation, and seeing America en route to and from the jamboree.

Provide an opportunity to meet and camp with brothers Scouts from many parts of the world.

Inspire every participant to return to his home, troop, chartered organization, and community to tell the story of the freedom that is ours and the greatness of America.*
Resources:
http://www.westtexasscoutinghistory.net/jamboree.html