Physical Address: 6912 West Expressway 83, Harlingen, Texas 78552
Mailing Address: P.O. Box 2424, Harlingen, Texas 78551
Office: 956-423-0250 / Fax: 956-421-4950

Council Information
The Rio Grande Council serves five counties which include: Cameron, Hidalgo, Willacy, Starr and Zapata counties. The council is made up of four districts which include: Tip-o-Tex, Arroyo, Arrowhead and Rio Bravo. The main office is in Harlingen, Texas, which provides a Service Center, a Scout Shop, Training Center and meeting rooms.
---
The Mission:
The mission of the Boy Scouts of America, is to prepare young people to make

ethical

and

moral

choices over their lifetime by instilling in them the values of the Scout Oath and Law.
---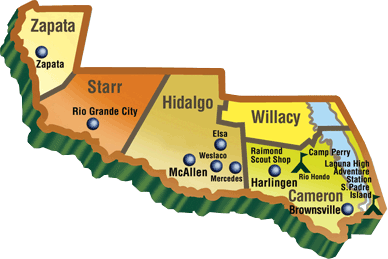 Executive Committee / Council officers
| | |
| --- | --- |
| Council President | Manuel "Manny" Guerra III |
| Council Commissioner | Patricia Garcia |
| Council Treasurer | Carlos Muniz |
| Assistant Treasurer | Steve Shimotsu C.P.A. |
| V.P. Finance | Sandra Langley |
| V.P. Administration | Col. Glen Hill |
| V.P. Endowment | Chris Boswell Esq. |
| Nominating Comm. Chair | Uvaldo Cantu M.D. |
| Prior President | Andy Hagan |
Professional Staff
| | | |
| --- | --- | --- |
| Scout Executive | Rudy Gonzalez | Rudy.Gonzalez@scouting.org |
| Field Director | Ernest Espinoza | ernest.espinoza@scouting.org |
| Arrowhead District Executive | | |
| Arroyo District Executive | | |
| Tip-O-Tex District Executive | | |
| Rio Bravo District Executive | | |
Support Staff
Camp Service Staff
---
Employment Opportunities

To inquire about employment positions visit our LinkedIn site:

to see requirements for District Executive Positions Click Here
- District Executive positions
- Summer seasonal positions
To apply please email your resume to Rudy.Gonzalez@scouting.org
---
District Geographic Details

Tip-o-Tex district covers the southern part of Cameron County which includes: Brownsville, Los Fresnos, Olmito, Rancho Viejo, Port Isabel, and South Padre Island.
---
Arroyo District Click here

The Arroyo District covers the northern part of Cameron County and Willacy County which includes: Harlingen, San Benito, Raymondville, La Feria, Lyford, Rio Hondo and Sebastian.
---
Arrowhead District Click here
The Arrowhead District covers Most of Hidalgo County which includes: McAllen, Delmita, Edinburg Garciasville and Mission.
---
Rio Bravo District Click here

The Rio Bravo District Covers the Southern part of Hidalgo County, Starr County, Zapata County which includes: Alamo, Donna, Mercedes, Pharr, Progresso, La Villa, Monte Alto, Elsa, Edcouch, Hargill, Linn, San Juan, Rio Grande City, Roma, and Sullivan City, and Weslaco.
---
Annual Report
2011 annual report to download (financial figures are audited).
All financials, 990 and audits are available for viewing at our main office.
6912 West Expressway 83, Harlingen, Texas 78552.
Please contact us in advance at 956-423-0250.
---
Social Media
We are proud to communicate to our community in many different manners and media. We have several forms of internal email blast. Also, we have a growing Facebook, Twitter, Flicker and Google Plus group of followers! Join us and follow us with your favorite media method. We just want to get the word out!